Discover more from Consumed
The food, news, music, books, art, and things I'm consuming, as well as the thoughts consuming my brain.
Good morning, angels. Happy Friday and welcome to another Friday Five, your weekly roundup of joyful content from all corners of the internet.
I'm slightly shocked it's already March — this year has felt so hectic that I just feel like I'm trying to keep up, and not keeping pace with the actual passage of time.
Song: Bill Withers was the youngest of six in a coal-mining family in West Virginia. He came to music later in life, had a phenomenal ~15-year career, and then walked away from it all at the peak of fame, because the industry wanted to change his sound. His music makes me feel like I'm covered in a weighted blanket, or that I'm soaring — occasionally both at once, flying but safely weighed down (amazing visual).
"Can We Pretend" is the perfect wind-up or wind-down song, something gentle for you to start or end your day with. If you're as fascinated with the Bill Withers story as I am, read this Rolling Stone profile on him.
Deliciousness: My incredible friend Umaimah just launched her brand of South Asian pantry staples called Paro. I don't post links to things for purchase here very often, but I genuinely believe this is some of the most delicious and amazing culinary alchemy out there. She's made it possible for me to create a flavorful and filling dal in less than 30 minutes, the easiest kitchari (mash polo in Farsi) I've ever made, and the buttery spicy tarka is something I've drizzled on nearly every dinner this week. Try out her products, bring them to a dinner party as a gift, just bring them into your life and you won't regret it.
Public Service: The Minnesota Department of Transportation organized a snowplow naming contest, and the results are just delightful. My personal favorite is "Scoop! There it is" but I would be absolutely starstruck to see "Blizzo" in person.
Poem: Mary Oliver strikes gold again with this poem on love, and how we are all capable of falling into it over, and over again. Romantically, platonically, with each other, with places and music, even with the sky above us. "The core of my life," and maybe the core of all our lives, is love.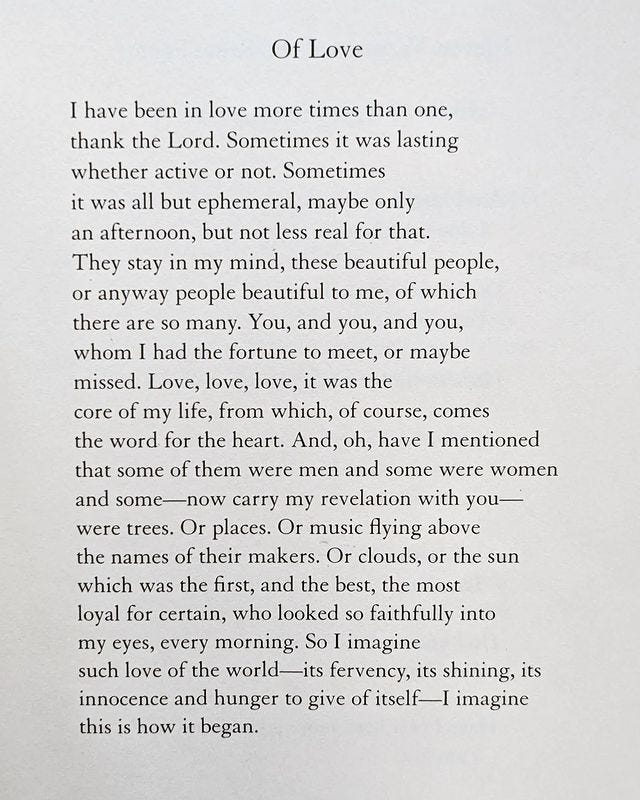 Joyful Internet Content:
Tiktok failed to load.
Enable 3rd party cookies or use another browser
Tiktok failed to load.
Enable 3rd party cookies or use another browser
Tiktok failed to load.
Enable 3rd party cookies or use another browser
Tiktok failed to load.
Enable 3rd party cookies or use another browser
Yer a blizzard, Harry,
Roya